Solo Truck Drivers
Team Truck Drivers
What is Shift + Load Pay?
Owner Operator Teams
Apply Today!
Apply Today!
888-999-7576
Apply
Central Regional Truck Driver
(Shift + Load Pay)
Barr-Nunn offers Truck Drivers unparalleled stability. We have industry-leading driver turnover metrics. The switch is worth it.
Come see why Truck Drivers love working with us.
There are currently no openings for this position. Please check back soon!
Starting Base Pay Per Shift
$260 per shift
+ $90 per load
Example:
1 load per shift: Earn $350
2 loads per shift: Earn $440, etc.
Shift + Load Pay is a high paying innovative compensation program for professional truck drivers, combining the ability to secure firmly fixed pay each shift worked and add even more money to it with every load hauled. This provides a more stable, consistent paycheck, and more predictable home time.
Expected home time: weekends
Full truckload, dry van
Hiring Bonuses
Truck Drivers new to Barr-Nunn are eligible for one of the following options in this position, for a limited time:
Option 1 (with qualifying safety record)
Initial $875 or $700 CSA Safety Bonus
$600 On-Road Safety Bonus
Paid Time Off
Plus
$875 or $700 CSA Safety Bonus
$600 On-Road Safety Bonus
Paid Time Off
opportunity every 30 days for your first 90 days*
*After first 90 days, you will be eligible for these bonuses every 90 days
Option 2
Initial Sign-on Bonus of $525
Apply Now
Please fill out the form below and take the first step in your career with Barr-Nunn Transportation. Our team will get back to you as soon as possible. All fields are required.
Additional Pay
CSA Safety Bonus opportunity every 90 days, $875 (if you are Hazmat Endorsed) or $700 + 8 hours Paid Time Off
On-Road Safety Bonus opportunity of $600 every 90 days
Anniversary Bonus of $100 for each year of continuous service, paid annually
Lucrative Truck Driver Referral Program
Benefits
Paid weekly
Earn PTO (vacation) every year
401(k) match program
Free rider program
Health Insurance (Blue Cross and Blue Shield) and Dental Insurance available
Cafeteria plan (make daycare and medical expenses tax-free)
Vision savings plan available
$10K free life insurance
Cash advances available
100% no-touch freight
No NYC, Canada, or Mexico
Newer trailers with tracking & cargo sensors
Late-model, well-equipped, assigned tractors
Prepass Plus weigh station bypass and toll transponders
Submit paperwork with your smart phone using Drive Axle, or use Transflo at truck stops
Advanced online services allow you to manage your loads, review payroll, and much more using your smart phone
Qualifications
A valid and current Class A CDL
14 months of verifiable tractor-trailer experience in the past 48 months
No DWIs in the past 7 years
No more than 3 moving violations in the past 3 years
Pass a pre-employment DOT physical, drug screen, and Human Performance Evaluation (company truck drivers only for HPE)
No preventable DOT reportable accidents in the past 3 years
No drug test refusal or failure
Primary Running Area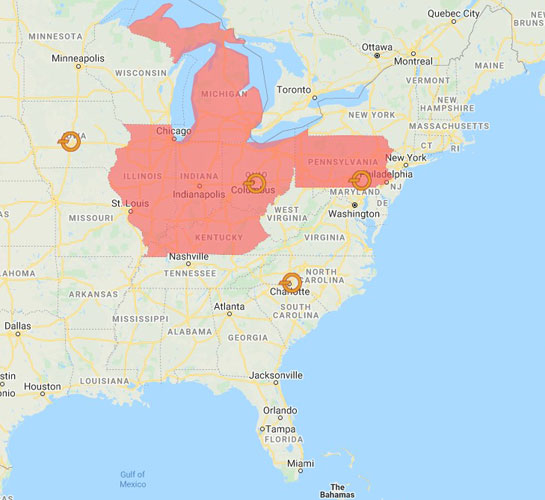 Tractor Information
~550 late-model Freightliner Cascadia, Kenworth T680, and International ProStar tractors
Automatic transmissions
1500 watt inverters
Refrigerators
Air release fifth wheels
XM-ready/Bluetooth radios
Double bunk raised/high-rise roof
Dual tires
Dual air ride seats
Bunk heaters
Truck speed set at 65 MPH
Trailer Information
~1,800 53' Wabash trailers
~60 53' Great Dane trailers
SkyBitz tracking systems with cargo sensors
Aerodynamic blades on most trailers
Spring suspensions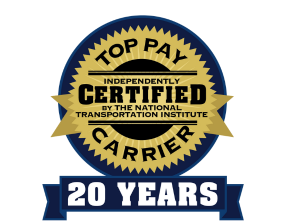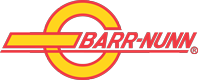 Barr-Nunn Transportation LLC
1803 Burr Oak Blvd.
Granger, IA 50109
888-999-7576